Q1:
Which tool do you use, when you carve a watermelon?

A1:
I use a carving knife made in the kingdom of Thailand. (The following photo)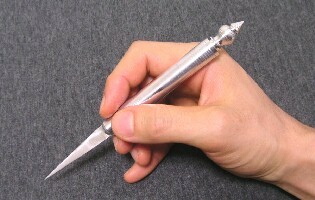 Q2:
How long does it take to carve one watermelon?

A2:
I spend about 1 hour carving a watermelon.
If I carve only a simple character, it takes 20 min.
But if I do a flower decoration too, it takes from 40 to 90 minutes.



Q3:
Can you eat carved watermelons?

A3:
Yes. They are natural and delicious.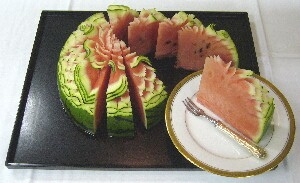 Q4:
How long does it take us to acquire the basic technique?

A4:
We can acquire it for a week.
Anyone can do it!
At first, you could carve flowers and leaves on Daikon, Japanese radish.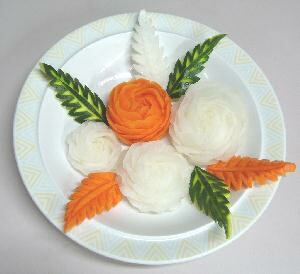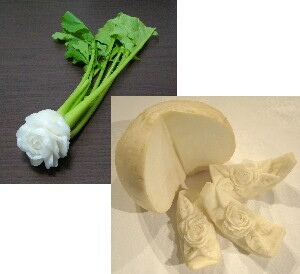 Japanese radish(Daikon), carrot and zucchini.


Q5:
Can every watermelon be carved?

A5:
Yes.
Any kind of watermelons can.


Q6:
Can you carve other fruits or vegetables for carving?

A6:
Yes.
Melon, papaya, pumpkin, carrot, Japanese radish, etc.
Various!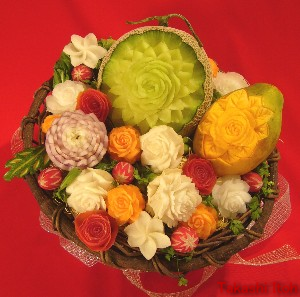 Fruits & Vegetables Gift Baskets.


Q7:
When did you master watermelon carving?
Did you have a teacher or did you teach yourself?

A7:
I mastered the technique in 2001.
I do not have a teacher. I studied by myself.


Q8:
How long did it take you to be skilled hands?

A8:
It took me three weeks.


Q9:
Why do you use watermelons?
Don't you use cantaloupes or grapefruits for instance?

A9:
Because watermelon is colorful.
So, it attracts us.
And its part we can carve is large.
It is more powerful than other fruits.
Grapefruit is much smaller than watermelon.